Recent Landscape Work in Dorset & Hampshire
See a selection of our latest landscape projects we've recently completed in the Dorset & Hampshire areas, showcasing just some of the landscaping services we offer. You can also look at examples of specific services using the links below, or view a gallery of work in our Portfolio.
Patios, Lawns, Fencing & Pergolas | Patio & driveway paving | Garden rooms | Artificial grass
For more information please contact us on 01425 614210 or use our contact form.
---
Front garden and driveway design and build
A great dorset landscaping project , that required some careful thought in its design – the brief was to create a front garden that looked great all the time when looked upon from the kitchen/dining area, but also required minimal manitenance.
The contrast of the fluid shapes set in limestone, against the luxury artificial grass (Namgrass) created the main feature of the garden.
The front pathways and driveway were also redesigned to separate the two areas.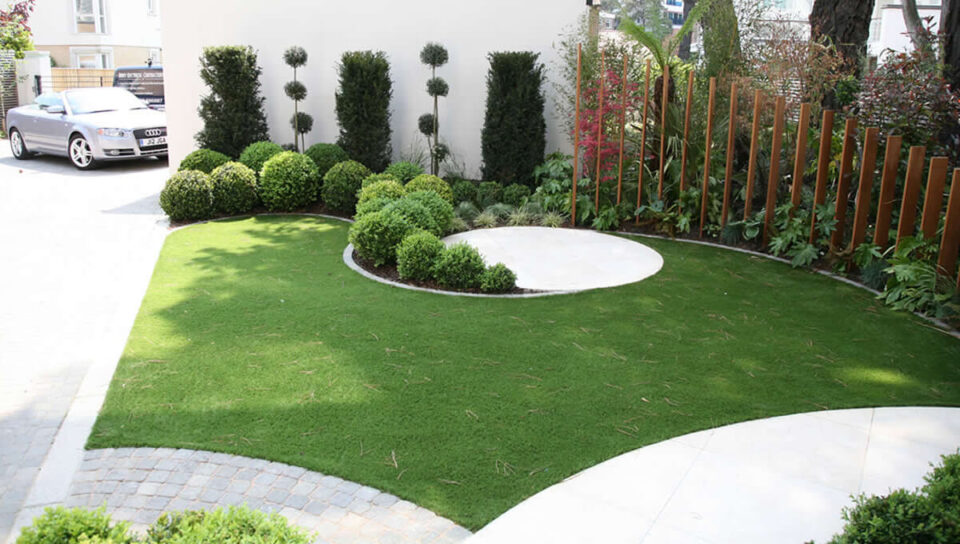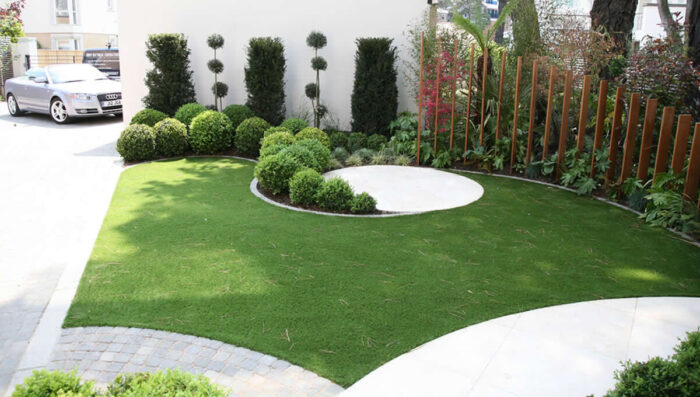 ---

EP
I would like to express my thanks and satisfaction for the work you carried out on our garden. We are delighted with the result.
John
Hi Phillip…just had to call to say thanks – i'm really…really fussy and with the terrace nearly finished it is beyond my expectations – the two have been a pleasure to have around and they are a credit to the Company in EVERY way. Thanks
J&S
Now that Mark and Tim have finished I just wanted to say that we are so pleased with the way the garden looks now and think they've done an amazing job! Please accept our thanks for project management and pass on our thanks to all those involved.
AB
Thank you for all the hard work undertaken in the garden. It is looking really good. Once again, please many thanks to the 2 guys. Good wishes to all.
JC
I just wanted to say what a fantastic job was done on our front garden last week. All the men working on it were great, but especially the two who were here all week and who worked with care and enthusiasm. We were very impressed and very pleased with the final result.
SP (Wimborne)
We are very pleased with the work done and the way in which it was carried out. The garden now looks a treat
WD (Sway)
Just a brief note to say how delighted we are with our new garden. Your crew worked tirelessly and were a pleasure to have on the premises.
RM (Highcliffe)
You and your team have done a magnificent job – what a transformation. Your craftsmen worked with great skill and – rightly- showed great pride in their work.
BS (Bournemouth)
…thank you, my cheque is enclosed. We are very pleased with the new lawn, and very impressed with your two installers. They are a credit to you, and very professional. Please pass on our thanks to them.
BG (Christchurch)
My wife and I are delighted with our new lawn. We were particularly impressed with the work ethic of your men and the delightful way in which they conducted themselves. It is rate these days to find such service.
RM
Many thanks. The lawn looks fab, and the guys did a great job. We are really pleased with everything from start to finish.
JR
I feel I would like to record my thanks for the excellent work you and your team have done here. It has been a great relief to have the drive dealt with so efficiently, particularly in the manner you have cured the problem. I am also delighted to have had the fruit trees pruned – long overdue! My grateful thanks again.
---
Completed Garden Design Projects